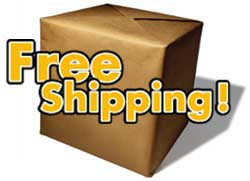 Beginning right now, enjoy FREE SHIPPING on any order over $199.00.
How to get FREE SHIPPING:
Enter the coupon code 'FREESHIP4' at checkout. The shipping price will change to $0.00 when you check out. or Call Africa Imports at (800) 500-6120. Give coupon code 'FREESHIP4' to the customer service agent. Don't Miss Out! Offer is good until 11:59 p.m. Sunday, October 28, 2012. Offer valid for regular ground shipping in the continental U.S. only. Carrier choice is at Africa Imports discretion. Excludes Oversize items and will incur shipping charges. Start shopping now.