How do I contact Africa Imports?
We are open from 9:00 AM - 6:00 PM EST Mon-Fri, and 9 AM - 3 PM on Saturday.
You can call us anytime during those hours at 201-457-1995 or toll-free at 1-800-500-6120.
You can reach us via fax at 1-201-342-0362.
You can also e-mail us at contact@africaimports.com.
How do I find price specials?
If you look at the top menu of our page, select "Special Prices". There you will find our current sales and 'Web Specials'; if you click on that link you will be redirected to a page that shows all of our most current website specials and discounts.
On the top of the page there is a menu with a link that says 'New Items'. If you click on that link, you will be redirected to a constantly updated page that shows you all the newest arrivals. Keep checking back, because this changes all the time!
On the top of the page there is a menu with all the different categories of items. You can click on any of those categories for a complete listing of what you can purchase. If you're looking for artwork simply click on the 'Artwork' category.
Another way to find the product you want is by looking in the search engine at the top of the web site. The search engine is a blank space with the word 'Search our Store...' written next to it. To find an item you are interested in, simply type the keyword into the search engine; for example, 'knives', 'cowrie shell', 'leather', etc., then press the button with the red arrow. You will then be redirected to a page with a list of all the items that match your search criteria. You can also type in the item# for the product you are looking for if you know this.
How can I get the lowest prices?
Click Here to see a list of our current specials.
Here are three ways to get special pricing on all items.
Sign up to our mailing list to get special offers by email.
What kind of company is Africa Imports?
Africa Imports serves customers with the largest selection in the world of African and African Inspired items at low prices. The purpose behind founding the business is to help provide a means of support for some of the most economically disadvantaged regions of the world. Africa Imports provides a crucial link between the artisans in Africa; and people in the US who love and appreciate their work. Because not everything offered by Africa Imports is made in Africa, we also support many different people and charitable activities in Africa with the profits that come from these other products. Click here to see some of what your purchases do.
How do you add emails to your white list/stop them being blocked as spam?
Why do I receive an email after every order?
Every time that someone places an order with us, there is a computer-generated email that is sent. We send you this email to make sure that everything is ok.
Sometimes people email me back to say they get tired of getting these emails each time that they place an order. Here's why we keep sending this all the time; and why most people think it's a good thing.
It makes your life easier. If there is a problem, you get a fast reminder to let us know. You can tell us about anything you are unhappy about faster and easier than remembering to contact us some other way.
It lets you tell us about problems you might not mention otherwise. If there is something small that went wrong with an order, you can let us know. If there is something else that you would like to see us carry; or some other way that we can do better; you can let us know easily by responding to this automated email.
It helps us to get better. I get dozens of responses to this email each day. We find out all kinds of potential improvements when people write back to us. Your orders are more trouble-free because of some of the ideas that others have emailed back to us before.
It's also a reminder for you to re-order. If you sell out of something from us when you get it; and you need to get more right away; this email can help you remember this too.
Of course, you don't need to wait for an email to contact us. You can phone us toll free at (800) 500-6120; or email us at contact@africaimports.com anytime.
---
My Account
Information on changing or viewing your account
How do I register an account with Africa Imports?
Click on Sign In, which can be found on the top right-hand corner of your screen. Enter your email address under 'I am a new customer' and click on 'Next'. Please complete all fields marked with an asterisk *. As stated in our privacy policy, we do not forward your personal data to third parties. Once you have completed the registration, you will receive a confirmation email. We suggest that you check the information in this email carefully, making sure it is correct. To confirm your registration click on the link provided in the email. Once your registration has been confirmed, you can login and start shopping. If the address you want your order delivered to is not the same as your billing address, please also provide your delivery address. If not your order will be sent to your billing address.
How do I reset my password if I have forgotten it?
To reset your password simply click 'Sign In' on the top right hand corner of this page. Then click on "Forgot your password?". Enter your email address and click Reset Password. You will receive an email with a link in it (please note: this email may take a couple of hours to reach you and could appear in your spam / junk folder). Click on the link in the email and you will be prompted to enter a new password.
What is a default shipping address?
You may have specified more than one shipping address in your account information. The default shipping address is the address to which your order will be shipped unless you select another shipping address for this order.
What is a default credit card?
You may have specified more than one credit card in your account information. The default credit card is the card that will be charged with the value of your order unless you select another credit card to be charged for this order..
Can I delete an address from my address list?
Yes. Log into your account and select "addresses". You can delete any address or you could change it by editing it.
How can I change my e-mail address or password?
First you will want to log in to your account. You can do this by clicking on the 'My Account' link at the top of our web site menu. Once you have logged in, click where it says 'Hello, your name'; in that screen, you will see all of your customer information and address information. Here you can update your email address. On the left side of the screen is an option to 'Change Password'
How can I find out what my password is?
If you have forgotten or lost your password, from the menu on our website, you can click on 'Sign In'. Under the password box is a link that says "Forgot your password?". Enter your email address and click the Reset Password button. An email with instructions will be sent to you shortly. If you don't see an e-mail from us, please check your spam folder. You only need to submit one request. If you request a password multiple times, only the latest link will be valid.
You can buy something or view your order history if you sign in. You will not need to type in your personal information every time you place an order. You can create a gift list that your friends, relatives, or maybe even a total stranger can use to buy you gifts. If you visit us again later, all of your information will be saved to make your next visit more simple. You can ask us to let you know about new products that you might be interested in; and about special price reductions.
I already have an account with you. Do I need to register myself again on your web store?
No. If you already have an account with us, you should not set up another account. If you have problems, contact our Customer Service at 1-800-500-6120.
Can I place an order without registering my account?
Before you place an order with us, you must register with us. Registration takes up only a few minutes. Once you have registered with us, you don't need to give your address and credit card details on future visits. This will save you the trouble of entering this information on every purchase you make from us.
---
How long will my order take to get to me?
Phone and web orders placed before 2 PM EST are shipped on the same day they are received (US Mail orders will be shipped the same day before 11:30am). No shipments are sent out on Saturday, Sunday, or holidays.

Orders that are especially large placed after 12 PM EST may be sent on the following day.

Shipping times vary depending on the state you live in and your choice of shipment carrier (UPS, FedEx, or US Mail). For an approximate shipping time in transit you can see the map below.

This is a UPS map of approximate shipping times to your area.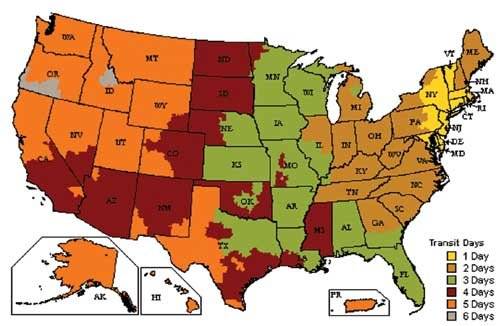 FedEx ship times in some areas take one day longer than the ship times on the UPS map.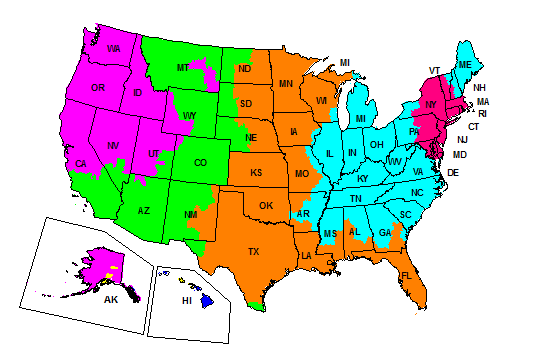 US Priority mail takes approximately 3- 5 days within the 48 contiguous states and the District of Columbia.

US Parcel Post takes approximately 5-10 business days. When you place your order you will be given an option to chose either UPS, FedEX or US Mail shipping.

US Postal Service does not deliver on the following holidays:

New Years Day

Martin Luther King Jr. Day

President's Day

Memorial Day

Independence Day

Labor Day

Columbus Day

Veterans Day

Thanksgiving Day

Christmas Day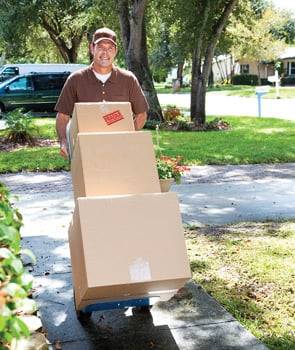 Can I have more than one shipping address?
Yes. If you are a regular customer, we can ship your order to a different address than the billing address of your credit or debit card. If this is your first order, and you want your order shipped to a different address than the billing address for your credit card, you can pay using Paypal, use check by phone, or you can mail in your payment.
How much will shipping cost?
The shipping cost is the same as the published shipping cost using UPS ground shipping. This is calculated based on the approximate weight of your package. When you put items in your shopping cart, the shipping cost is calculated and adjusted according to the items you put in your cart. If you'd like to know how much your shipping cost would be for an item, you can put it in your shopping cart and then click 'check out' to see how much the shipping cost is listed for that item or list of items.
What is the holiday schedule?
IMPORTANT HOLIDAY SHIPPING INFORMATION: Delivery times will NOT be guaranteed by UPS or FedEx just before Christmas. There will not be a money-back guarantee for packages shipping via ground during this time.
Do you offer Free Shipping?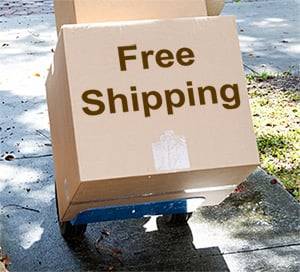 Shipping is free for orders over $500 in the continental U.S. except when it has oversized items. Free shipping is available for UPS Ground and FedEx Ground.
All orders that are $500 or more will be sent out with a signature required. If your order is over $500 you will not be charged anything additional for this service.
International orders are subject to shipping charges on all orders regardless of dollar amount. If your order is over $500, Africa Imports can offer a discounted shipping cost on your order.
How can I add a shipping address to my address list?
To add a shipping address, log into your account. Click on the 'Addresses' on the left-hand side of the screen. The details of your account are displayed. Click on the 'Add New' button to add a new shipping address. Fill in the information and save.'
How do I choose a different shipping address?
When you are in the 'checkout' section of your order you will be given the option to change the shipping address of the package. In the shipping box you will your default address listed. Under that, there are options to change the address or add a new one. If you are having your order shipped to a different person and would not like to have any of Africa Imports information in the package or on the return address label (this is called drop shipping), then there is a $5. surcharge.
How do I check the status of my order?
First, log into your account here. Then click here (You MUST be logged in to check your transaction history). If you know your order number and the type of order enter it and click on the 'Submit" button. You can also search through multiple orders, by specific time periods, returns, and an array of other search features. Whether the order was placed by telephone, fax or on-line your order will appear. The order numbers are displayed with the tracking numbers of the shipments made.
How do we charge you for your shipping costs?
Every so often, someone calls to say that they think their shipping costs are too high. Sometimes people think that Africa Imports intentionally overcharged their shipping costs.
Because of the types of products that we sell, our shipping costs are a lot higher than some other companies. It is much more expensive to ship an African statue than it is to ship a DVD or a book. But we do not want to lose customers by charging too high of shipping costs.
Our goal is to charge exactly the same amount that UPS or the Post Office charges for shipping your package. Our computer can not always get the exact amount correctly however. In fact, we normally charge customers less than UPS charges us for shipping costs.
Historically we lose money on shipping costs. Shipping is actually one of our biggest expenses. There are still some orders that are charged too much though.
To make even more sure that we don't make a customer mad at us by charging them too much for shipping, we now compare all of the UPS bills to the customer charges. When we find someone is charged too much, we make refunds for any large overcharges. When we undercharge someone; or if the actual cost is really close to what we have charged; then we leave the cost alone. In other words, if we charge you too much, we try to refund you. If we charge you too little, we don't try to collect any more from you.
If you ever think that our shipping charges are too high, please let me know. We will fix any charges that are too high.
Holiday Shipping Information
For several weeks before Christmas UPS and Fedex air shipments except the last minute shipments shown below.
Latest days to ship by UPS air for delivery before Christmas:
UPS 3 Day Select: December 19 (placed before 2pm)
UPS 2nd Day Air®: December 20 (placed before 2pm)
UPS Next Day Air®: December 23 (placed before 2pm)
Africa Imports Holiday Hours
Africa Imports offices are closed the following days:
New Years Day
Memorial Day
4th of July
Labor Day
Thanksgiving Day
Christmas Day
---
How do I place an order online?
Ordering online is simple and fast. As you're browsing through the products, when you see something you like, simply click on the button 'Add to Cart'. This will open the page for the product so you can select the color, size or quantity of an item that you want.
Once you have added all the items you'd like to buy click the shopping cart button. Click the 'Checkout' button you will be redirected to the login page. If you have an account with Africa Imports, then you can go ahead and log in.
If you don't have an account, yet you can click on the link that says 'My Account' then the button that says 'Sign up'. Having an account with Africa Imports allows you to save your shipping and billing information online so that we can send you up to date catalogs and send your orders to your correct address.
After you have logged in you will be redirected to your shopping cart. Click the " Checkout" button. You will be taken to page where you will confirm your order, the shipping address, and your shipping options. Click "Continue with Payment" to enter your credit card or PayPal information. Click the "Review and Confirm" button. After you have confirmed the information, press submit and your order will be placed with Africa Imports and you will receive an e-mail confirmation.
I live outside of the US. How is my order processed?
We are unable to process credit cards from banks outside of the United States. We can accept wire transfers or any monies sent to us as long as they are in U.S. dollars. We accept Paypal which is usually the most simple payment method for international orders.
Unless you choose the shipping company, we will ship the least expensive way. We will tell you the total cost of your order including shipping, but we will not know the exact cost until after your order is packed.
We are unable to help you with customs.
If there are any extra charges by the country to which the package is being shipped, these costs are extra, and are not included in your payment to us. You may have additional costs for customs and for clearing that are not included in your bill from us which you are responsible for. We are also not responsible for any customs delays in receiving your order, this is beyond our control and will not be acceptable as a reason for refusal of the goods sent.
We have a 100% guarantee that you will be happy with the goods sent, but shipping costs and customs fees are not refundable.
Do you have a minimum order?
If you are purchasing wholesale, there is a minimum first time order of $100.
All following orders will only have to be $50.
What types of payment terms do you offer?
Credit/Debit Cards: We accept Visa, Mastercard, American Express, and Discover Card.
We also accept PayPal; you can send your PayPal payments to paypal@africaimports.com
Money Order - You can pay by money order by mailing it to us with a copy of your order.
Why do I sometimes see a $1 charge on my credit or debit card after placing an order?
The $1 charge is a temporary authorization hold that is sometimes placed on your credit or debit card to verify that the funds for your purchase are available in your account. Once the transaction is finalized, the $1 hold is removed. The exact time-frame for removal is determined by your card's issuing bank. In the event that your order is canceled, you may contact your bank and request an immediate release of any holds on your account.
What other ways can I place an order?
Place your order by phone
We have friendly customer service representatives waiting to help you with your order. All you have to do is call our phone number: 201-457-1995. We can answer any questions you have, and make sure that your order is processed and delivered to you with the greatest care and quality.
Place your order by fax
You can fax in your order anytime to our fax number: 201-457-1910. Simply write down the products you'd like, your shipping and billing address, and your payment information on a sheet of paper (any kind of paper will do). Fax the paper to the above number and your order will be processed right away.
Mail in your order
You can mail your order to us anytime to the following address:
Africa Imports
240 South Main Street, Unit A
South Hackensack, NJ, 07606 When you mail in your order, please write down all the items you'd like to receive along with the quantities and prices. Also please note your billing, shipping address, and your payment options. You can also mail in a money order or cashiers check. You can also pay by credit or debit card by writing the card number and expiration date on your order form.
Will my order look exactly like the photo on the website?
Many of the items shown in this catalog are hand made. The measurements shown are all approximate. The images will be reasonably similar to any items that you receive; but no two are exactly alike. Most people feel that this adds value to a product of this kind. If for any reason however, you are unhappy with any product that you receive, you can return it for either a full refund, or exchange for a new item of equal value
What guarantee do I have that I will be happy with my order?
We want to do all that we can to see you as a customer again. Even more than this, we want you to be so happy with your purchase that you can tell someone about us. If you are unhappy with your purchase for any reason at all (or even for no reason), you can return it for a full refund or exchange; whichever you choose. All returns must be undamaged and returned within 30 days of your purchase for a complete refund. Clothing must not be soiled or laundered. See our full Return Policy Here
How do I change or cancel an order?
Whenever you are needing to change or cancel an order, please call our offices toll free at 1-800-500-6120. Tell one of the representatives what you would like to change, or if you would like to cancel the order. They will look up your order and process the change for you. Make sure you call before 11 AM EST on the day that you place your order to make any changes or to cancel. After that time changes can not normally be made to your order.
How can I place an order without using my credit card?
There are other payment options available at the Online Shop which you can use to pay for an order. Select the option most suitable to you in the "Payment Method" area. For example, if you wish to mail in a money order, select this option to create the order. You may send your money order to our address by quoting your order number. If you need any further assistance, please contact Customer Service at 1-201-457-1995.
Why are some garments out of stock?
Clothing fashions change from one season to the next. Because of this clothing is the most likely type of product to go out of stock.
When we look for African or African-Inspired garments we always try to get as much as possible so that you can always have what you want when you want it. However, some items are very rare or limited in quantity, so we can only offer a smaller number of each selection. Some garments are only available for a one-time purchase from our craftspeople, so once the garment sells out it is no longer available for us to re-sell. We try to purchase garments that we can re-stock, but at the same time we want to give you the biggest variety of choices possible. Because of this, you may find an occasional product that we can not restock.
Get a head start! One of our goals is to give you what you need, without the worry of something selling out. Because of this, you can see the stock quantities on any item you want to purchase online. You can also call in for this so that you can know best what will work for you or your company. The information on or website is 'real-time.' This means that whenever a customer purchases an item, the quantity in stock shown on our website changes immediately. When new stock arrives, it shows up on our website instantly. The quantity in stock for each product is shown directly below the price. You can check available stock of any item easily by typing the item number for the product into the search box to find the item. For products that come in different colors and sizes, you can click again to see the different options along with the quantities in stock for each.
Why isn't everything at Africa Imports made in Africa?
Most of what you find here is made in Africa; but some other products are made in other countries.
The country of origin is shown in the product description for everything we have to offer. So you can always find out where something is made.
There are several reasons why we offer some products made in other places. The main reason is that our customers want many of these items. A significant goal of our business is to help our customers have what they want.
Another reason is that offering some of these products made in other parts of the world helps our wholesale customers get new customers for their business. Even though some things are made in different parts of the world, they can often still communicate the culture and heritage of Africa. Sometimes they are priced lower so that more people can own what is offered and help our wholesale customers to be able to reach a broader audience.
If you wonder how we can sell products from other countries and still have a mission of supporting communities in Africa. The reason this works is simple. It is because selling these products causes us to sell more African-made products that many customers may not notice otherwise. As long as giving customers more options increases sales of the African-made products, we believe that we are meeting our company goals. More African communities will be supported through the sales of the things that they make.
Because not everything offered by Africa Imports is made in Africa, we also support many people and charitable activities with the profits that come from these other products.
We also have very low price mark-ups on some African made products. There are a number of African made products that would lose money if we did not offer non-African made products as well. By offering larger selections, you can order some African made products that would not be available otherwise. Africa Imports exists to help people and communities in Africa prosper. By selling more African-made goods, there are more communities in Africa that are able to grow in their industry; and more craftspeople in Africa can support themselves while carrying on African traditions. Each time you purchase an African-made product, someone in Africa is supported in their work. We appreciate your business no matter what you order, but we hope that you will consider African-made products in a special way, because of the good that results when you purchase from them.
How do you get the smell out of leather?
If you have ever noticed a leather smell coming from your leather bags, don't worry, this is normal. Leather naturally has a strong cow-hide smell, and the dyes used on the leather also have their own scent. You can get rid of the odor with just a few simple step, just click here.
How long until back ordered items come back into stock?
The length of time the product comes back into stock varies and depends on the product. There are some items that do not come back into stock. This is most common for clothing with changing fashion from one season to the next. For most items that are scheduled to come back in stock, you can be notified automatically when they come back in stock. For this, search for the item by item #. A screen that allows you to enter your email address to be emailed automatically will appear. You can also call us on the phone and ask to be contacted when it is in stock.
Do you have a problem with your drum?
We can replace the drum or give you a full refund if this is best for you. There are other things about your drum that it might help you to know first. Click here to find out more.
---
What is the difference between wholesale and retail prices?
Wholesale prices are the lower prices that are charged to stores or other businesses who are re-selling these products. Retail prices are the higher prices that a customer pays when they buy something for themselves. These are often titled MSRP (Manufacturers suggested retail price)
For almost all of the products that you see at africaimports.com, the wholesale prices are one half of the retail prices.
How do I see wholesale prices?
When someone visits africaimports.com they will see wholesale prices by default. However, only wholesale members can purchase at that price.
If you are a wholesale buyer, we can set your account to wholesale status.
You can then see and purchase online at wholesale prices. This is done manually by someone working at Africa Imports call us at 201-457-1995, or email contact@africaimports.com to have your account changed.
Is there a minimum order needed for wholesale orders?
Yes. First time orders need to include a Business Starter Kit or be for at least $100 of merchandise. The minimum size of a wholesale order with Africa Imports is $50 for all orders after your first one.
How can I start a business by selling products from Africa?
Click Here for a few quick and easy ways to jump start your business.
To pay wholesale prices, you need to be buying these products for re-sale.
You do not need to own a store. You can work from you home or be selling these products part time. There is a $100 minimum order required for first time wholesale orders (or you can purchase a starter kit). After that the minimum order drops to $50
You can order smaller quantities as long as you are above the minimum order.
If you want to order less than the wholesale minimum, you can, but you will pay the higher retail prices.
Creating a wholesale account is easy with Africa Imports.
Do I need to pay sales tax on wholesale orders?
The United States Supreme Court ruling on June 21, 2018 in the case of South Dakota vs. Wayfair allows states to require online sellers to collect sales tax if they do a significant amount of business in the state. To see a complete list of states where sales tax is collected, please click here.
What tools can I get to help me?
You can find dozens of booklets, posters, business cards, and other tools (most of them for free) by clicking here.
Can anyone see and order at wholesale prices?
Not everyone can order from us at wholesale prices but they will see wholesale prices by default. You must be a member to purchase at wholesale prices.
Retail customers will see increased prices once they have signed in.
*You do not want to refer your customers directly to our website. Use catalogs, or other promotional materials
To register as a wholesale customer, first sign in, and next fill out a form requesting to be recognized as a wholesale customer. We will then set your account to wholesale status.
Can I use the photos at africaimports.com for my website?
Are there risks when drop-shipping an order?
You can have an order drop shipped to your customers with Africa Imports.
Drop shipping is when you order something from us, and we ship it directly to your customer.
There is an extra $5.00 drop shipping charge for any drop shipped orders.
If you want to place a drop ship order online, Check the drop ship check box when you check out. An extra $5.00 drop shipping charge will be added to your order, and the package will be sent with paperwork showing you (or your company) to be the sender. Your customer will receive a packing slip showing the items in the box, but without any cost being shown.
There are several reasons you may want to avoid the drop shipping. The main reason is that you lose some contact with your customers. The products that you or your customers receive will be as shown in the catalog or website; but each is hand made so there will be small individual differences in individual items. Most people think that this adds value to the product; but it helps you to see exactly what your customer is receiving so that you are able to handle questions as they come up. One of the complaints that many people mention to us about other companies is that the items are drop shipped from somewhere else. Many people like to receive items directly from the company or person that they buy them from, and feel badly when something is drop shipped to them. Your customers are your biggest asset; so you may want to think about this some more.
Although we do not want your customers to contact us directly, and we would never contact them directly, it is possible for your customers to find us some other way. To make our relationship as good as possible, we prefer to have no contact at all with your customers. Avoiding drop shipping is one way to avoid any possible misunderstandings.
You can also save money by not drop shipping. If your orders with us are at least $400., there is no charge to you for shipping. You can save not only the drop shipping charges; but all of the regular shipping costs this way as well.
If you still think that it is in your best interest to have us send items directly to your customers, we certainly can. There are just some potential problems that you will want to consider first.
How do I get retail catalogs to show to my customers?
How do I copy a photo from africaimports.com to use on my own website?
To copy a photo from our website to use on your own website, auction, or flier, first find the photo that you want to use (if this is a product photo, be sure to navigate to the largest photo of the product). Next, right click on the large photo; and from the drop down box that appears, choose "save picture as"; and then save the photo with your own product name onto your computer hard drive. Finally, you can either print out or upload the photo to your own website in the same way that you upload any other photo. Get more complete instructions here.
How do I access a Wish List?
In the upper right hand corner under "My Account", you will find a link to the Wish List.
How do I create a Wish List?
Click on the 'Heart' button on a product you like. To create a Wish List you must be a registered user. If you already have an account, then login to the store. When you find a product that you want to add to your Wish List, Click on the 'Heart' button on a product you like. All the items added will be added to the Current Wish List.