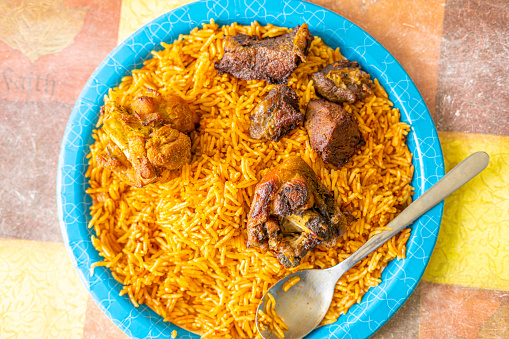 Jollof rice
When Africans were brought to America as slaves, they brought many delicious recipes from the homeland with them. When they arrived in Jamestown, they remembered the foods that they'd eaten in Africa. They also learned new recipes from Native Americans who befriended them and showed them different plants and herbs with which to cook. Today, these recipes are still used by African Americans, as well as other cultures. They are delicious and nutritious. Pay tribute to Black History Month by making these dishes for your family!

Hoppin' John - What you will need:
2 cups dried black-eyed peas
water
1 ham hock with the meat cut from the bone
2 cups onion, finely chopped
1 teaspoon red pepper flakes
2 cups brown rice, raw
½ cup pickle relish
1 cup cheddar cheese, grated
How to make it: Place peas in a large pot. Cover with water and bring to a boil. Boil for 3 minutes. Remove from heat. Let stand or at least one hour. Add meat, onions and pepper flakes. Add water to cover and cook on medium heat for 45 minutes, or until peas are tender. Add water if needed. Stir in rice and simmer for ½ hour, or until rice is cooked. Stir in cheddar cheese and pickle relish. Enjoy!
Jollof Rice What you need:
Oil for frying one chicken (and/or a pound or two of stew meat), chopped into bite-sized pieces
One or two onions, finely chopped
Salt, black pepper, cayenne pepper (to taste)
Flavoring add-ins (to taste): chile pepper, chopped; garlic; thyme; bay leaf; ginger; cinnamon; curry powder
Two cups chicken broth or chicken stock, or beef broth or beef stock (or Maggi® cubes and water)
Two or three ripe tomatoes, chopped
Vegetable add-ins sweet green pepper (or bell pepper),
Chopped string beans or green beans
Green peas
Carrots, chopped
Cabbage, chopped
four cups rice
One small can tomato paste
Meat
Add-ins cooked ham shrimp or prawns (or dried shrimp or dried prawns) Garnishes fresh parsley, chopped cilantro, chopped lettuce, shredded hard-boiled egg, sliced

How You Make It:

1. Heat two tablespoons of oil in a large skillet. Stir-fry the chicken (or beef) in the oil until it is browned on all sides. Remove the meat from the oil and set aside. Add the onions, the salt, pepper, cayenne pepper, and one or two of the flavoring add-ins (if desired) to the skillet and fry the mixture until the onions begin to become tender. Remove the onion mixture from the skillet and set aside with the meat.

2. In a dutch oven or large covered cooking pot, bring the broth and two cups of water to a simmer. Place the meat and onion mixture into the dutch oven and cover.

3. In the same skillet used for the meat and onions, stir-fry the tomatoes and one or two of the vegetable add-ins. Continue frying the mixture until the vegetables are partly cooked, then add them to the meat, onions, and broth in the dutch oven.
4. Again in the same skillet, combine the rice and the tomato paste. Over low heat, stir until the rice is evenly coated with the tomato paste. The rice should end up a pink-orange color. Add the rice to the dutch oven and stir gently.

5. Cover the dutch oven and cook the mixture over a low heat until the rice is done and the vegetables are tender (maybe half an hour). Stir occasionally and check to see that the bottom of the pot does not become completely dry. Add warm water or broth (a quarter cup at a time) as necessary to help rice cook. Adjust seasoning as needed. If desired, add one of the meat add-ins while the dish is cooking. (Shrimp cook very quickly and should not be over-cooked or they will become tough; ham can be added at any time.)
6. Serve with one or two of the garnishes.
Find more African recipes on the Africa Imports web site by Clicking Here.

IN HONOR OF BLACK HISTORY MONTH: Dr. Daniel Hale Williams
Dr. Daniel Hale Williams was born in Pennsylvania and attended medical school in Chicago, where he received his M.D. in 1883. He founded the Provident Hospital in Chicago in 1891, and he was the first to successfully perform open heart surgery in 1893.