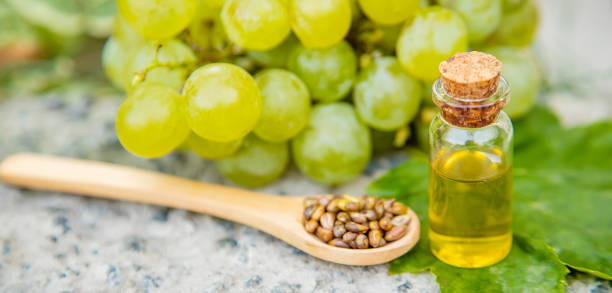 Taking care of your skin can at times seem like a monumental task. There are so many commercials advertising the new 'wonder' product, and when you check your e-mails you're bound to see a banner ad for some kind of miracle skin care or weight loss product. Then you go into the drugstore and see a vast array of skin care treatments, each claiming to be the best, each with ingredient lists that are too complex for most of us to understand. The truth is, what we really need to take care of our skin is usually right in the backyard or maybe even in the refrigerator! Mother nature has provided us with the healthiest, purest skincare treatments, but many of these incredible natural healers go by unnoticed. Take the grapeseed for example; so small and seemingly insignificant, yet full to the brim with powerful antioxidants, vitamins, protein, and healthy minerals. Grapeseed oil is obtained by literally pressing grape seeds and extracting all the natural oils from the seed. The oil is used many times in cooking, because it is so low in saturated fats and high in gamma linolenic acid, a type of good fat. Only now in the US are people starting to realize how beneficial grapeseed oil can be for your skin.
Why Does Grapeseed Oil Work? - Grapeseed oil contains proanthocyanidins, which are very potent antioxidants. Antioxidants flush impurities out of your skin, and neutralize free radicals, which in turn fights the effects of aging. - Grapeseed oil has mild astringent qualities, which help to tighten and tone the skin. - Because grapeseed oil is non-comedogenic, it is great for people who have oily or acne-prone skin. - Grapeseed oil has moisturizing properties that will soften the skin without feeling greasy or oily. The truth is while many skincare products out there can temporarily smooth out fine lines and wrinkles and plump up the skin, very few actually help the underlying structural problems caused by the loss of collagen and elastin. Grapeseed oil is easily absorbed by the skin, so it can really work on healing the connective tissue while increasing collagen and elastin, thus giving you more a more youthful appearance.

How Do I Use Grapeseed Oil? You can apply grapeseed oil to your skin without anything else for some great benefits. It will be absorbed by the skin readily. We do suggest applying a gentle shielding lotion after it is absorbed to lock in the oil and really make it work to its fullest. This isn't mandatory, but it does help to increase the benefits of the oil. A shielding lotion can be anything from a natural butter like shea butter or cocoa butter, to a gentle lotion for sensitive skin. You can also make a cleanser out of grapeseed oil. Simply mix equal parts of grapeseed oil and jojoba oil and dab onto your face with cotton. For a face mask, mix grape seed oil with egg whites, and beat them to meringue consistency. Smooth the mixture onto your skin and relax for 15-20 minutes before washing it off. You can also smooth a little grapeseed oil around the eyes, mouth and other areas that tend to wrinkle. Where Can I Find Grapeseed Oil? You can find grapeseed oil on the Africa Imports web site. Just Click Here to find out more information or to order it now.