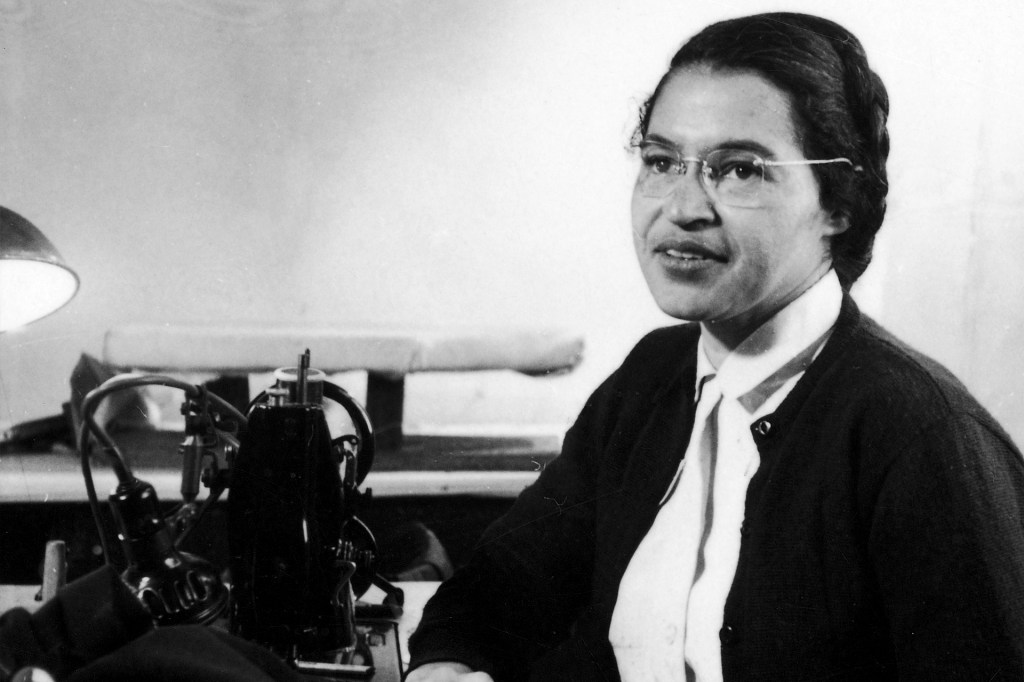 Black history month has a great beginning with the birthday of Rosa Parks. Born February 4th, 1913, Rosa Parks made one pivotal decision that influenced history forever. She was an unknown seamstress in Montgomery, Alabama, when she refused to give up her seat to a white passenger. This act of bravery caused her to be arrested and fined for violating a city ordinance. However, the decision she made began a movement that ended legal segregation in America, and made her an inspiration to freedom-seeking people everywhere.
Beginnings Rosa Parks was born Rosa Louise McCauley in Tuskegee, Alabama to James McCauley, a carpenter, and Leona McCauley, a teacher. At two years of age she moved to her grandparents' farm in Pine Level, Alabama with her mother and young brother, Sylvester. When she was 11-years-old she enrolled in the Montgomery Industrial School for Girls, a private school founded by liberal women from the northern US. The school's philosophy of self-worth was consistent with Rosa Parks mothers advice to "take advantage of the opportunities, no matter how few they were." Opportunities were indeed very few. "Back then," Mrs. Parks recalled in an interview, "we didn't have any civil rights. It was just a matter of survival, of existing from one day to the next. I remember going to sleep as a girl hearing the Klan ride at night and hearing a lynching and being afraid the house would burn down." In the same interview, she noted her lifelong acquaintance with fear as the reason for her fearlessness in deciding to appeal her conviction during the bus boycott. "I didn't have any special fear," she said. "It was more of a relief to know that I wasn't alone."

Her Untold Story Many people think Rosa Parks story began that day on the bus, but what they don't know is that prior to her arrest, Mrs. Parks had a firm and quiet strength to change things that were unjust. She worked as a secretary of the NAACP and later as an adviser to the NAACP youth council. She was determined to work for many years to improve the lot of African-Americans in the segregated south. She also tried to vote on several occasions when it was still nearly impossible. She had many run-ins with bus drivers and was evicted from buses. Parks recalls the humiliation: "I didn't want to pay my fare and then go around the back door, because many times, even if you did that, you might not get on the bus at all. They'd probably shut the door, drive off, and leave you standing there."
The Rest is History Rosa Parks's arrest and trial resulted in a 381-day Montgomery bus boycott, and, finally, the Supreme Court's ruling in November 1956 that segregation on transportation is unconstitutional. Even after her arrest she suffered hardships as a result of the boycott. She lost her job at the department store she worked at, and her husband quit his job after his boss forbade him from talking about his wife or the legal case. In 1957, Mrs. Parks and her husband moved to Detroit, Michigan where Mrs. Parks served on the staff of U.S. Representative John Conyers. The Southern Christian Leadership Council established an annual Rosa Parks Freedom Award in her honor. After the death of her husband in 1977, Rosa Parks and Elaine Eason Steele co-founded the Rosa and Raymond Parks Institute for Self-Development. The institute runs "Pathways to Freedom" bus tours, which introduce young people to important civil rights and Underground Railroad sites throughout the country.
A Legacy Not to be Forgotten Rosa Parks lived a brave life, and she died at the age of 92 on October 24, 2005. City officials in Montgomery and Detroit announced on October 27, 2005 that the front seats of their city buses would be reserved with black ribbons in honor of Parks until her funeral. During Black History Month and throughout the entire year, it is good to be reminded of the brave steps that people like Rosa Parks took to promote freedom and equality in this country. We hope in 2009 we can all think of small ways in which we can help make the world a better place for everyone, and we can uphold the legacy left before us by people like Mrs. Parks. You can find more information on African history in Africa Imports free articles. You can also find more African clothing and other African products at Africa Imports: the largest supplier of African products in the US.