How long will my order take to get to me?
Phone and web orders placed before 2 PM EST are shipped on the same day they are received (US Mail orders will be shipped the same day before 11:30am). No shipments are sent out on Saturday, Sunday, or holidays.
Note: During November - December holiday season, shipments may be delayed due to carrier backlogs.

Orders that are especially large placed after 12 PM EST may be sent on the following day.

Shipping times vary depending on the state you live in and your choice of shipment carrier (UPS, FedEx, or US Mail). For an approximate shipping time in transit you can see the map below.

This is a UPS map of approximate shipping times to your area.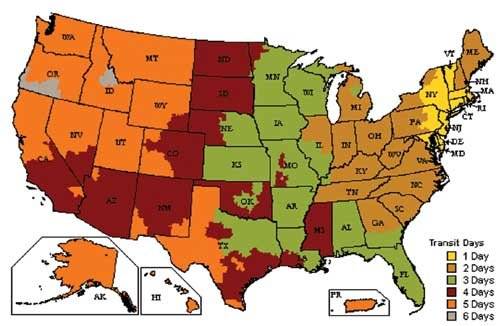 FedEx ship times in some areas take one day longer than the ship times on the UPS map.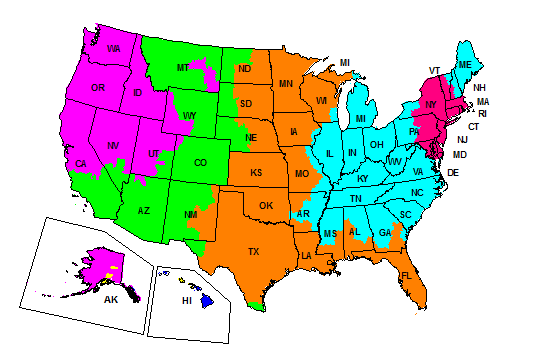 US Priority mail takes approximately 3- 5 days within the 48 contiguous states and the District of Columbia.

US Parcel Post takes approximately 5-10 business days. When you place your order you will be given an option to chose either UPS, FedEX or US Mail shipping.

US Postal Service does not deliver on the following holidays:

New Years Day

Martin Luther King Jr. Day

President's Day

Memorial Day

Independence Day

Labor Day

Columbus Day

Veterans Day

Thanksgiving Day

Christmas Day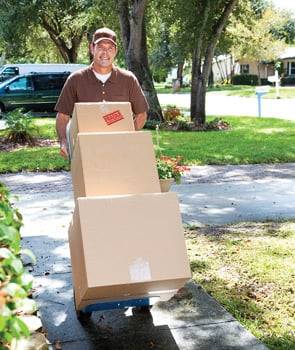 Can I have more than one shipping address?
Yes. If you are a regular customer, we can ship your order to a different address than the billing address of your credit or debit card. If this is your first order, and you want your order shipped to a different address than the billing address for your credit card, you can pay using Paypal, use check by phone, or you can mail in your payment.
How much will shipping cost?
The shipping cost is the same as the published shipping cost using UPS ground shipping. This is calculated based on the approximate weight of your package. When you put items in your shopping cart, the shipping cost is calculated and adjusted according to the items you put in your cart. If you'd like to know how much your shipping cost would be for an item, you can put it in your shopping cart and then click 'check out' to see how much the shipping cost is listed for that item or list of items.
What is the holiday schedule?
IMPORTANT HOLIDAY SHIPPING INFORMATION: Delivery times will NOT be guaranteed by UPS or FedEx just before Christmas. There will not be a money-back guarantee for packages shipping via ground during this time.
Do you offer Free Shipping?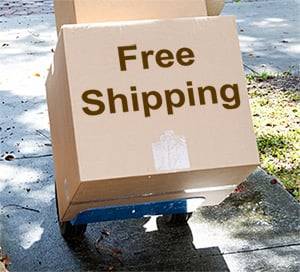 Shipping is free for orders over $500 in the continental U.S. except when it has oversized items.
All orders that are $500 or more will be sent out with a signature required. If your order is over $500 you will not be charged anything additional for this service.
International orders are subject to shipping charges on all orders regardless of dollar amount. If your order is over $500, Africa Imports can offer a discounted shipping cost on your order.
How can I add a shipping address to my address list?
To add a shipping address, log into your account. Click on the 'Addresses' on the left-hand side of the screen. The details of your account are displayed. Click on the 'Add New' button to add a new shipping address. Fill in the information and save.'
How do I choose a different shipping address?
When you are in the 'checkout' section of your order you will be given the option to change the shipping address of the package. In the shipping box you will your default address listed. Under that, there are options to change the address or add a new one. If you are having your order shipped to a different person and would not like to have any of Africa Imports information in the package or on the return address label (this is called drop shipping), then there is a $5. surcharge.
How do I check the status of my order?
First, log into your account here. Then click here (You MUST be logged in to check your transaction history). If you know your order number and the type of order enter it and click on the 'Submit" button. You can also search through multiple orders, by specific time periods, returns, and an array of other search features. Whether the order was placed by telephone, fax or on-line your order will appear. The order numbers are displayed with the tracking numbers of the shipments made.
How do we charge you for your shipping costs?
Every so often, someone calls to say that they think their shipping costs are too high. Sometimes people think that Africa Imports intentionally overcharged their shipping costs.
Because of the types of products that we sell, our shipping costs are a lot higher than some other companies. It is much more expensive to ship an African statue than it is to ship a DVD or a book. But we do not want to lose customers by charging too high of shipping costs.
Our goal is to charge exactly the same amount that UPS or the Post Office charges for shipping your package. Our computer can not always get the exact amount correctly however. In fact, we normally charge customers less than UPS charges us for shipping costs.
Historically we lose money on shipping costs. Shipping is actually one of our biggest expenses. There are still some orders that are charged too much though.
To make even more sure that we don't make a customer mad at us by charging them too much for shipping, we now compare all of the UPS bills to the customer charges. When we find someone is charged too much, we make refunds for any large overcharges. When we undercharge someone; or if the actual cost is really close to what we have charged; then we leave the cost alone. In other words, if we charge you too much, we try to refund you. If we charge you too little, we don't try to collect any more from you.
If you ever think that our shipping charges are too high, please let me know. We will fix any charges that are too high.
Holiday Shipping Information
For several weeks before Christmas UPS and Fedex air shipments except the last minute shipments shown below.
Latest days to ship by UPS air for delivery before Christmas:
UPS 3 Day Select: December 19 (placed before 2pm)
UPS 2nd Day Air®: December 20 (placed before 2pm)
UPS Next Day Air®: December 23 (placed before 2pm)
Africa Imports Holiday Hours
Africa Imports offices are closed the following days:
New Years Day
Memorial Day
4th of July
Labor Day
Thanksgiving Day
Christmas Day
Picking up your order at our warehouse
You can place an order to be picked up at our office/warehouse. We are at 240 S Main St. Unit A in South Hackensack, NJ 07606. To do this, choose a shipping method of "Customer Pickup" and enter an approximate time for pickup. Please allow at least 4 business hours for your order to be processed and picked from the warehouse. You may also need a photo id that matches the credit card information to pick up an order this way.